COLORADO COMMUNITY MEDIA – Abe Laydon is commissioner-elect for District 1 on the Douglas County Board of Commissioners.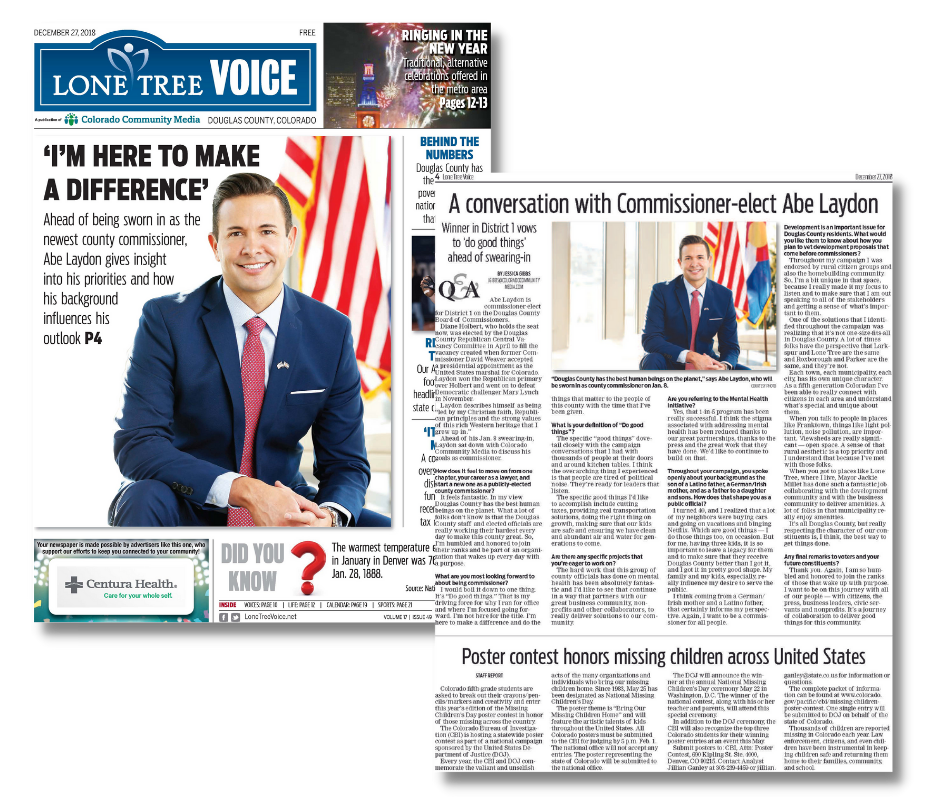 Diane Holbert, who holds the seat now, was elected by the Douglas County Republican Central Vacancy Committee in April to fill the vacancy created when former Commissioner David Weaver accepted a presidential appointment as the United States marshal for Colorado. Laydon won the Republican primary over Holbert and went on to defeat Democratic challenger Mary Lynch in November.
Laydon describes himself as being "led by my Christian faith, Republican principles and the strong values of this rich Western heritage that I grew up in."
Ahead of his Jan. 8 swearing-in, Laydon sat down with Colorado Community Media to discuss his goals as commissioner.
How does it feel to move on from one chapter, your career as a lawyer, and start a new one as a publicly-elected county commissioner?
It feels fantastic. In my view Douglas County has the best human beings on the planet. What a lot of folks don't know is that the Douglas County staff and elected officials are really working their hardest every day to make this county great. So, I'm humbled and honored to join their ranks and be part of an organization that wakes up every day with a purpose.
What are you most looking forward to about being commissioner?
I would boil it down to one thing. It's "Do good things." That is my driving force for why I ran for office and where I'm focused going forward. I'm not here for the title. I'm here to make a difference and do the things that matter to the people of this county with the time that I've been given.
What is your definition of "Do good things"?
The specific "good things" dovetail closely with the campaign conversations that I had with thousands of people at their doors and around kitchen tables. I think the overarching thing I experienced is that people are tired of political noise. They're ready for leaders that listen.
The specific good things I'd like to accomplish include cutting taxes, providing real transportation solutions, doing the right thing on growth, making sure that our kids are safe and ensuring we have clean and abundant air and water for generations to come.
Are there any specific projects that you're eager to work on?
The hard work that this group of county officials has done on mental health has been absolutely fantastic and I'd like to see that continue in a way that partners with our great business community, nonprofits and other collaborators, to really deliver solutions to our community.
Are you referring to the Mental Health Initiative?
Yes, that 1-in-5 program has been really successful. I think the stigma associated with addressing mental health has been reduced thanks to our great partnerships, thanks to the press and the great work that they have done. We'd like to continue to build on that.
Throughout your campaign, you spoke openly about your background as the son of a Latino father, a German/Irish mother, and as a father to a daughter and sons. How does that shape you as a public official?
I turned 40, and I realized that a lot of my neighbors were buying cars and going on vacations and binging Netflix. Which are good things — I do those things too, on occasion. But for me, having three kids, it is so important to leave a legacy for them and to make sure that they receive Douglas County better than I got it, and I got it in pretty good shape. My family and my kids, especially, really influence my desire to serve the public.
I think coming from a German/Irish mother and a Latino father, that certainly informs my perspective. Again, I want to be a commissioner for all people.